Team Up to Promote Sports Safety
New York, NY—October 12, 2013—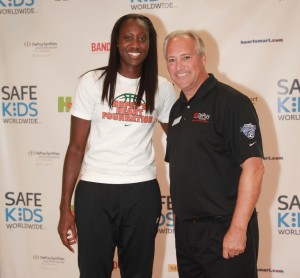 More than 100 local youth athletes, coaches and parents joined Safe Kids Worldwide and Tina Charles, WNBA star and 2012 MVP, for a Hopey's Heart and Safe Kids Sports Safety Clinic. Participants learned how to avoid dehydration and prevent sports injuries such as concussions and overuse and acute injuries. They also learned the importance of pre-participation exams and being prepared with CPR, first aid and AEDs (Automated External Defibrillators).
Held at the Riverbank State Park Gymnasium, a place where Charles grew up playing basketball, participants were introduced to various sports safety issues through interactive stations and games. By creating awareness and providing knowledge to prevent injuries and life-threatening situations, everyone in attendance learned valuable tools to help them stay in the game and keep the competition safe.
Athletes, coaches and caregivers rotated through a series of 10 minute sessions that focused on key areas of sports injury prevention. Each athlete received an autographed postcard from Tina Charles that had sports safety tips from Safe Kids Worldwide on the back. At the end, Tina Charles and the Hopey's Heart Foundation donated AED's to the Riverbank State Park and to Coach Cecil King's Riverbank  N.YGazelles.
Generous sponsors of the event included DePuy Synthes Mitek Sports Medicine and the Topical Healthcare Brands of Johnson & Johnson Consumer Companies, Inc., including BAND-AID® Brand, NEOSPORIN® Brand, Johnson & Johnson RED CROSS® Brand and BENADRYL® Brand.
About Safe Kids Worldwide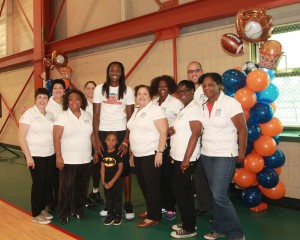 Safe Kids Worldwide is a global organization dedicated to protecting kids from unintentional injuries, the number one cause of death to children in the United States. Throughout the world, almost one million children die of an injury each year, and almost every one of these tragedies is preventable. Safe Kids works with an extensive network of more than 600 coalitions in the United States and in 23 countries to reduce traffic injuries, drownings, falls, burns, poisonings and more. Since 1988, Safe Kids has helped reduce the U.S. childhood death rate from unintentional injury by 55 percent. Working together, we can do much more for kids everywhere. Join our effort at safekids.org.
About Riverbank State Park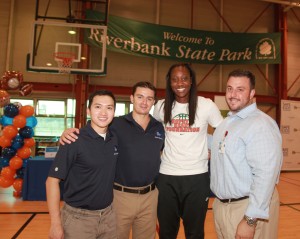 Riverbank is the only park of its kind in the Western Hemisphere. Inspired by urban rooftop designs in Japan, this 28-acre multi-level landscaped recreational facility is a state-of-the-art park facility. Rising 69 feet above the Hudson River, Riverbank offers a wide variety of recreational, athletic and arts experiences for all ages, interests and abilities. Housed in five major buildings are an Olympic-size pool, a covered skating rink for roller skating in the summer and ice-skating in the winter, an 800-seat cultural theater, a 2,500-seat athletic complex with fitness room, and a 150-seat restaurant. Outdoor sports amenities include a 25-yard lap pool, a wading pool, four tennis courts, four basketball courts, a softball field, four hand/paddleball courts, and a 400-meter eight-lane running track with a football/soccer field. Riverbank also boasts spectacular promenade views of the Hudson River, the Palisades and the George Washington Bridge. At water level, there is a 400-seat amphitheater. Two playgrounds, a water splashing area and a number of picnic areas round out Riverbank's many offerings.